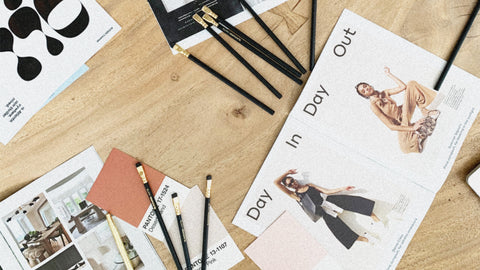 CAREERS
Shopify Web Designers & Developers
POSITION OVERVIEW
Studio Fulchi is looking for a fully remote, talented, Shopify Web Designer and Developer to work with its team to create beautiful, one-of-a-kind designs for client web projects.

The Shopify Web Designer and Developer is responsible for working with the Creative Director to design and customize Shopify websites for all new client projects.

This role requires strong coding skills, a killer design eye, the ability to work with feedback, and meet studio deadlines.

RESPONSIBILITIES
+ Review and analyze client's submitted Web Questionnaire
+ Meet with Creative Director for initial direction and feedback
+ Strategize customer flow for client websites
+ Design Website drafts in Adobe XD
+ Implement Brand Designer's strategy and brand guidelines throughout Shopify website
+ Fully customize Shopify themes with code to meet initial direction
+ Work through revisions
+ Support clients during 30-day support period
+ Record Client Training Video
+ Various other Studio tasks as we continue to grow

PROGRAM SKILLS
+ CSS
+ HTML
+ Liquid
+ Javascript (a plus)
+ Shopify
+ Adobe XD
+ Adobe Illustrator
+ Adobe Photoshop

PERSONAL SKILLS
+ Self-starter – can take a request and complete it without needing step by step instructions
+ Strong communicator – willing to be open about what they need additional clarification on
+ Ability to manage change and constructive feedback
+ Detail oriented
+ Available to respond to email/text quickly
+ Responsible/Timely - ability to meet studio deadlines
+ Ability to learn as you go
+ Must love our design style and design similarly
+ Ability to adapt design style to fit the client's defined aesthetic

MINIMUM EDUCATION AND/OR CERTIFICATIONS REQUIREMENTS
No minimum education required. Our studio cares more about talent, ability to think critically, be reliable, and execute on ideas with great design.

MINIMUM WORK EXPERIENCE REQUIREMENTS
2 years of work experience as a Shopify web designer.

However, we love working with talented individuals with less work experience, but who have a proven ability to produce quality and unique work.

HOURS: Varies by project
POSITION TYPE: 1099 Contractor
LOCATION: Remote with flexible hours, must be available between 9am and 5pm EST

To apply, email resume and website portfolio to anthony@studiofulchi.com with the job position as the subject line.
South Florida-Based Models
POSITION OVERVIEW
Studio Fulchi is looking for various SouthFlorida/Miami-based models of all backgrounds to work with its team to create stunning and one-of-a-kind photos for new client projects. We're looking for models of all ages, genders, backgrounds, body types, and ethnicities to work with our diverse client base. Because we work with product-based businesses, Models are responsible for modeling the client's products at various locations, mostly in South Florida. Products vary from project to project, and include (but are not limited to) clothing, beauty products, wellness products, food and beverage products, and jewelry.

RESPONSIBILITIES
+ Review photoshoot summary to understand client's products and goals
+ Be able to do own hair and makeup (when needed, hair and makeup may be professionally done, and the Studio will cover the cost)
+ Ability to travel to photoshoot locations as far as Orlando and Tampa (gas and mileage reimbursement is provided for shoots further than 50 miles from Miami)
+ Be comfortable modeling products from various industries, and be able to adjust modeling style depending on the type of product and brand.

HOURS: Varies by project
POSITION TYPE: 1099 Contractor
LOCATION: Miami, FL

To apply, email resume and modeling portfolio to anthony@studiofulchi.com with the job position as the subject line.